Prestressed FRP composite manufacturing technology test stand
Description:

The stand was designed for experimental investigation of specific features of manufacturing process of prestressed FRP composite materials and gives the possibility of forming FRP composite elements by the use of vacuum assisted techniques (vacuum bag and infusion method). Controlled prestress can be applied by a prestressing bed composed of two blocks: one fixed to a base and the other one movable. The load screw is mounted in the moving block in such a way that the screw end is blocked in the fixed part of the stand and the movable part is shifted during the rotation of the screw, which gives the possibility to stretch the reinforcing fabric mounted by the clamps located at the opposite ends of the table. The tensile force is monitored by the load cell mounted in the fixed part of the table.

Technical data: Sensors integrated:
tension-compression tensometric load cell with measurement rank up to 2.5 kN;
resistive displacement sensors (2 items) with measurement rank up to 10 mm;
manometer NPX A -1-X-Z3-0:10V-2-S (2 items) with measurement rank 0-1 bar;
hermocouples;
LifeCam Cinema camera (2 items) with HD resolution.
Additional equipment:
vacuum pump with efficiency 110 L/min.;
vacuum reservoir;
digital rotational viscometer Smart L PT100 PPR with measurement rank 20-2*106 mPa*s;
digitally controlled immersion thermostat Thermovisc 200 (temperature control rank: -10 C:+100 C);
measurement chamber for fabric permeability measurement;
flat-bed for composite prestressing.
Data acquisition:
NI CompactDAQ 9174 ( 4-Slot USB Chassis; analog input/output FIFO size 127 samples per slot; timing resolution 12.5 ns; number of maximum sample rate and number of channels determined by the C series I/O modules)
NI 9207 (16-channel voltage/current input, 500 S/s 20 mA/10 V, 24-bit analog input module)
NI 9213 (16-channel thermocouple input, 75 S/s, 78 mV, 24-bit ADC for up to 0.02 C measurement sensitivity, J, K, T, E, N, B, R, and S thermocouple types supported)
SWI-94 weight meter designed for operations with load cells (strain gages) equipped with active current output, passive isolated current output.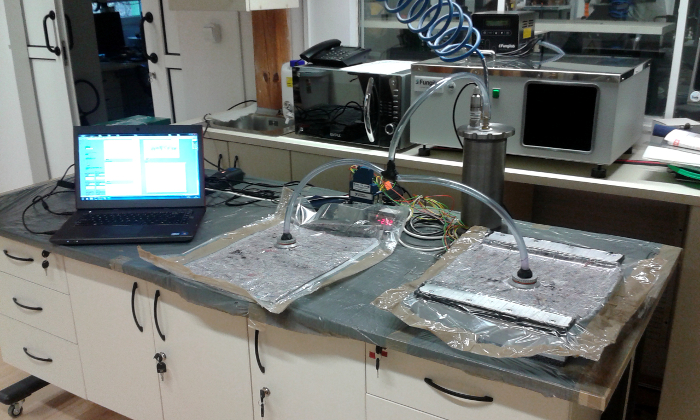 back